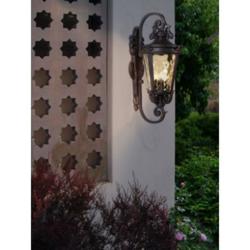 Chatsworth, CA (PRWEB) April 30, 2012
Now that summer is fast approaching most of us tend to push thoughts of outdoor lighting to the back of our minds. After all, who needs much lighting when the days are long and the beautiful sunlight is plentiful? Most people would agree with the writer Henry James when he said, Summer afternoon — summer afternoon; to me those have always been the two most beautiful words in the English language, and leave it at that. But not so fast, says Lamps Plus blogger and designer Marcia Prentice. There are actually a lot of summer outdoor lighting ideas that you can use to not only add style to your home, but also safety and energy savings.
Start with Porch Lights
The longer days mean that family and guests will be out and about later into the evening. Because of this, porch lights are essential for welcoming guests in style and giving them adequate light to safely navigate walkways and steps. Porch lights also add a touch of elegance and curb appeal to just about any home, notes Marcia. Just remember to size the light correctly for the size of your home. Most people buy fixtures that are too small for their porch space. I like to cut out a piece of paper thats the size of the fixture, tape it into location and then stand at the curb or in the walkway to see how it will look. The same approach can be used to size backyard patio lights.
Dark Sky Lighting
One option for outdoor lighting around your home is what is called Dark Sky outdoor lights. These types of lights aim light at the ground, not the sky, reducing light pollution. Many local communities have Dark Sky lighting regulations, which may specifically call for this type of lighting. Even if you dont need to install this type, it is still a great option for homeowners, says Marcia. With more light on the ground, they can actually improve visibility in walkways by reducing light glare and flares. This means you can reduce the wattage of the bulbs you use, saving energy over the long term.
Security Lights
Security is always an issue with outdoor lighting, notes Marcia. Aside from style, youll also want to make sure that your plan offers safety and security for your summer evenings outdoors. I love using dusk to dawn lights for seating areas, porches and garden pathways. This type of lighting uses a built-in photocell to automatically turn the light on at dusk and then off again at dawn. You dont have to be home for the outdoor lighting to turn on and you dont have to remember to turn lights off after a party or family gathering, explains Marcia. The built-in dusk to dawn feature takes care of everything for you, which is a great security feature as well as something that will save you energy and money.
Energy Efficient Outdoor Lighting
For those wanting to really save on their energy bills, energy efficient outdoor lights are the way to go. Today there are more energy efficient outdoor lighting designs on the market than ever before, says Marcia. Many of these use new LED technology or other design features to make them as energy-miser as possible, and they come in all styles for your home, from traditional to really ultra-modern looks. Energy Star rated outdoor lights are a popular option, though designs without the rating can be just as energy efficient. Energy Star is a government program tests fixtures based on guidelines set by the EPA and the U.S. Department of Energy. Look for the tags on products to see if they are Energy Star, says Marcia, She also advises that consumers look at the wattage of the bulbs used by the fixture and, also very important, the lumens, or light level output, the bulbs produce. This will really help you determine how much light a design will produce and at what cost. Outdoor lights are on a lot, so its important to know what your energy costs will be before you buy.
Add the Party Lights
Whats a summer season without a BBQ or pool party? String lights, often called party lights, are an inexpensive way to add a fun look to your summer entertaining. Many times you can string together multiple strands of lights, so you can use them to cover large decks or garden areas. They are found in a wide range of themes, from paper lanterns to flowers, with a number of child-themed options as well. I love that you can just string them up for a party to transform the look of your space, plug them in, and then quickly take them down the next day after the party is over, says Marcia. And you dont even have to hang them up. You can just bunch them together and put them in tall glass jars or wrap them around tree trunks to create really interesting effects.
For more summer tips and trends, visit the Style Illuminated Interior Design blog by Lamps Plus.
About Lamps Plus
For over 30 years Lamps Plus has been synonymous with excellence in the lighting retail industry. Established in 1976, Lamps Plus is the nation's largest specialty lighting company, with over 40 superstores throughout the western United States. Together with their retail stores and online business, the company serves over five million customers each year with the largest selection of functional and decorative lighting fixtures, ceiling fans, furniture, and home decor. This selection includes hundreds of products available exclusively from Lamps Plus. Services include free in-home lighting consultations, in-store lighting seminars and installation from expert, licensed electricians. American Lighting Association certified lighting designers are available to offer product recommendations and advice in all our stores, by phone or online at LampsPlus.com. Please contact PR(at)LampsPlus(dot)com for more information.
###