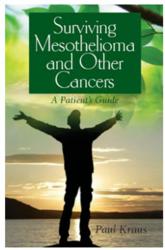 Raleigh, NC (PRWEB) September 28, 2012
Surviving Mesothelioma is one of the leading websites on the Internet, providing important, late-breaking news, insights and resources for both mesothelioma patients as well as their families. Despite discovering the negative effects of asbestos-containing material in the 1980s, in 2012, there are STILL new cases of mesothelioma being diagnosed and discovered.
In an effort to increase awareness about mesothelioma, below is some information regarding this disease as well as how it affects thousands of families each day.
What is Mesothelioma?
According to the Cancer Monthly website, mesothelioma is defined as the following:
"…a rare form of cancer in which malignant (cancerous) cells are found in the mesothelium, a protective sac that covers most of the body's internal organs. With rare exceptions, most mesothelioma cancers are considered malignant mesothelioma."
Prognosis and Outlook for Mesothelioma Diagnoses
Mesothelioma has a lengthy latency period, often taking anywhere between 10 years to 40 years in which to develop to the point where a person will begin to display symptoms of the disease. Most cases of mesothelioma are not curative. However, there are cases of mesothelioma patients who have survived for long periods. These patients often used innovative modalities including newer surgeries, heated chemotherapy introduced directly into the tumor, and integrative therapies.
Symptoms of mesothelioma can be similar to those of other types of maladies. In order to properly diagnose a person as having mesothelioma, the doctor will need to review the patients medical history, perform a complete physical exam, take x-rays of the chest and/or abdomen and perform other tests. In some cases, a CAT scan or MRI may be required. But typically, it is not until the doctor has performed a biopsy that an actual diagnosis of mesothelioma is possible.
Asbestos: The Missing Link
It has long been known that there is a direct correlation between asbestos exposure and mesothelioma diagnoses. More than 2,000 new cases of mesothelioma are diagnosed just within the United States each year.
For more information about mesothelioma, visit Surviving Mesothelioma on the web or on their Facebook page by clicking here.
About Surviving Mesothelioma:
Surviving Mesothelioma (http://www.survivingmesothelioma.com/) is a website dedicated to providing readers with information, resources and news pertaining to Mesothelioma. Affiliated with the Cancer Monthly organization, Surviving Mesothelioma contains up-to-date news regarding cancer treatments, facts, information on finding Mesothelioma doctors, as well as articles, books and testimonials from Mesothelioma survivors.
About Cancer Monthly
Cancer Monthly is an organization founded by volunteers whose lives were forever changed by cancer. Today, Cancer Monthly is one of the fastest growing healthcare organizations, with more than 10,000 visitors each week to their website http://www.cancermonthly.com. Cancer Monthly is also responsible for the news content found on the Surviving Mesothelioma website.